Jesus saith unto him,
I Am The Way, The Truth, and The Life:
no man cometh unto The Father, but by Me.
John 14: 6
But whosoever shall deny Me before men,
him will I also deny before My Father which is in Heaven.
Matthew 10:33
And as it is appointed unto men once to die,
but after this The Judgment:
Hebrews 9:27
.... The fool hath said in his heart,
There is no God....
Psalms 14:1
Be not deceived;
God is not mocked:
for whatsoever a man soweth,
that shall he also reap.
Galatians 6:7
The Son of man shall send forth His Angels,
and they shall gather out of His Kingdom
all things that offend,
and them which do iniquity;
And shall cast them into a Furnace of Fire:
there shall be wailing and gnashing of teeth.
Matthew 13: 41, 42

ETERNITY
" ...Forever, an unbroken age, perpetuity of time, perpetual,
Eternal, everlasting, continuing without end, continual..."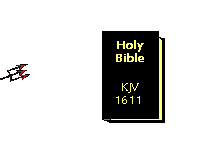 PREFER ETERNAL 'HELL' ?
(Click the spinning sign)

Song Title: "Yesterday"